The Best Tattooists Around
If you're looking for the best tattooists in Croydon, you've come to the right place.
Timebomb Tattoo studio has five incredible artists, all specialising in different styles – although they are all superb at all styles of ink.
So, Who are the best tattooists in croydon?
Vlado: Incredibly talented at Old School and Neo-Traditional Tattoos plus Ultra Clean line work.
Mike: Black and Grey Realism plus Neo-Trad specialist.
Nadz: Specialises in Nerdy / Geeky colour work. Marvel / DC / Sci-Fi Fan?? Nadz is your man!
Charlie: Uber-detailed Black & Grey artist. Our specialist in fine line hyper realistic tattoos.
Kina: One of the best portrait artists in the UK. Also loves darker detailed realistic pieces.
…and who are the best tattooists in London?
Well, we may be a little biased, but we think the artists work speaks for itself. It's advisable to search all over London for the best artists out there although we feel that we have managed to get together some of the best artists in the whole of the South East in one place. Check out their portfolios and decide for yourself.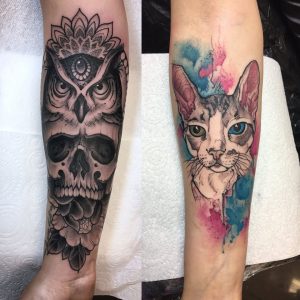 If you'd like to come in for a free consultation, please call ahead and book in as the tattoo studio is getting booked up and we'd like to be able to give you the time that you need to go over your ideas and designs plus choose the artist who is right for you.
A tattoo is with you for life, so seriously think whether you'd be happy with some backstreet "scratcher" (or "your mate who will do a sleeve for 50 quid" ;)) or the best tattooists in town – your call 🙂